Your friends have shared their life with Facebook. Now, Facebook is making sure you can actually find what they've shared.
The social network unveiled a new search tool, Graph Search, that Facebook chief executive Mark Zuckerberg described as the "third pillar" of Facebook, alongside News Feed and Timeline.
Graph Search, which is initially launching in beta as a limited preview for U.S. audiences only, will allow users to uncover social connections between other members of the site and quickly identify which friends have been to certain places, "liked" specific topics or appeared in certain photos.
Friends, places, interests and photos will be the foundation for queries when the search engine launches, Facebook said. For example, Facebook explained how Graph Search could be used to find "My friends who live in Palo Alto who like Game of Thrones," "Indian restaurants liked by my friends from India" or "Photos of my friends taken in Paris." Singles looking to meet people could search "Friends of friends who are single men in San Francisco." Someone trying to remember a person she'd met at a friend's party the evening before could query, "People named Drew who are friends of Peter and went to Harvard." The new search tool will occupy prime real estate at the top of all Facebook pages.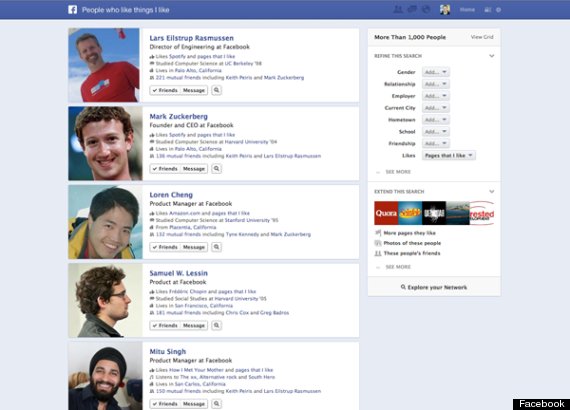 "Graph Search is designed to show you the answer and not links to answers," said Zuckerberg.
When Graph Search isn't able to return an answer for a search query, however, it willdefault to show results from Bing, Microsoft's search engine and a longtime Facebook partner.
Facebook took pains to educate users on the differences between searching Facebook with Graph Search and performing a web search using a search engine like Google.
"Web search is designed to take a set of keywords (for example: 'hip hop') and provide the best possible results that match those keywords," Facebook explained in a press release. "With Graph Search you combine phrases (for example: 'my friends in New York who like Jay-Z') to get that set of people, places, photos or other content that's been shared on Facebook."
Zuckerberg emphasized that Graph Search will respect users' existing privacy settings — people searching will only see content that has been shared with them — and noted that Facebook has added an alert to users' News Feeds asking them to review their privacy preferences before the search tool is launched.
Graph Search will initially be available only to "tens of thousands" of users, according to the Financial Times, but will launch publicly within the next few months. Facebook users interested in trying Graph Search can sign up to join the waiting list here.